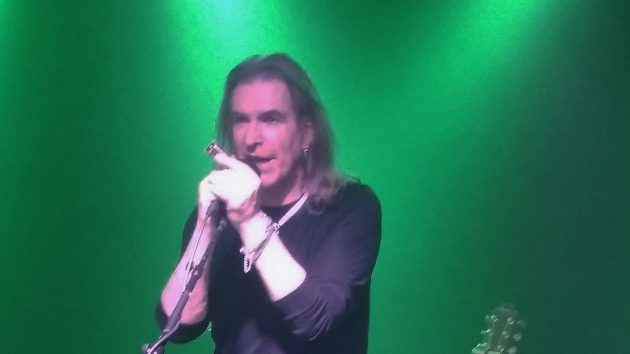 Justin Sullivan: "Sometimes it's nice to talk a bit. Sometimes you just play the fucking song."
Der Gründer der legendären Band New Model Army im Interview über Gott, Nazis, das Altern und den Punk [Interview in English].
Justin Sullivan, Gründer und Sänger der legendären Independent-Band New Model Army, ist auf einer Solo-Tour in kleinen Clubs unterwegs. In Hannover spielte der knapp 62-Jährige an zwei Abenden im LUX vor jeweils 200 Fans. Unser Autor Thomas Kaestle nutzte die Gelegenheit, sich vor dem zweiten Konzert mit ihm zu unterhalten: über Gott, Punk, Nazis und das Alter. [Interview in English]. 
Is this a typical situation for you, doing an interview right before a gig?
No. But then, nothing's very typical today. I don't really think about interviews being interviews. There once was this woman who tried to teach me how to do one. She said: "Interviews are very important. You must learn how to do them properly." And I said: "What do you mean?" She said: "Rule number one is, never get too far off the point of what you're selling. Five sentences without returning there is a mistake. Never speak for too long." Well, you know: bla bla bla. I don't think about it like that. I just talk to people.
How do you usually prepare for a gig? Do you?
I do a lot of physical things because I'm old. I need to stretch and all these kind of things. Just let loose. And I warm up my voice. Mental preparations? No. You can never predict what's going to happen anyway. You can be in the dressing room and go: "I feel great tonight, I feel really ready, really up to it." You have a good feeling and you get on stage and nothing really happens. And you don't know why. Where at the same time you sometimes sit in the dressing room and think: "I'm fed up with this, I'm tired, I don't have it tonight, I feel nothing at all, I don't wanna do this." And you get on stage and start playing and you realize: "Fuck, I like this." It's all really random. So I do physical things. But mentally I'm always kind of ready.
But you prepare a setlist?
Setlists are fucking difficult. I was just trying to finish the one for tonight when you came in. I've kind of played yesterday's set for a few days. A set has to be a kind of journey. You have to take people with you. So the order is kind of important. And tonight's has to be different from yesterday's. We spend hours on that with New Model Army. But we never prepare encores. For encores we come off stage and we argue what we're gonna play next.
Why did you decide to do a solo club tour?
I've done solo shows before, but not very many. I've done acoustic tours, but always together with other musicians. I'm not really a musician. So I'm not confident in that sense. I always needed someone to play with, a good, flexible musician like Dean White. But every time I did a solo gig I thought: "Well that was really good." And then: "That was really bad." And so I thought what I need to do is go on tour and learn how to make it work with just me and a guitar. I'm not the world's greatest guitar player and not the world's greatest singer, but I have got other qualities perhaps. How do you make one guy and a guitar interesting for two hours? It's an art. So I have to learn how to do that. And I'm interested in where the best place for this is. This is a small club. But I've also done gigs which were all seated, in big, open locations. Just to see which kind of feels better. So I'm learning lots of things by doing these shows.
What felt best so far?
I quite like the big seated shows. Just because they took things further away from New Model Army gigs. And the further it is from these, the more doors it opens.
Yesterday it seemed a bit like you were chatting with friends. There were many people who knew you well, some even follow you around. Did it feel like playing for friends or family?
Yes. But all gigs do. It's taken me a long time to learn this. Sometimes it feels very small and personal. That's a nice feeling. I'm always just myself. I'm not trying to be deeper or more mysterious or like someone special when I'm on stage. Even with New Model Army, even with a big stage and big lights and stuff. I know a lot of artists who always put on a mask to go on stage. I was never that guy.
So are you always looking for some kind of community, for some kind of gathering round the fire?
Unconsciously. I don't think about that. The point to me is the music. Everything that's happening is communication. It's not a presentation, it works both ways. We had a compliment for a New Model Army gig last year in a review. I thought it was really nice. It said: "It's not that this guys know what they're doing. Cause after 37 years they ought to bloody know that. It's that they look like they still know why they're doing it." The songs and stuff are means to an end. They're the transmission. It's about a communication of energy and feeling. Over the last two years I noticed that, as the forces of darkness seem to be becoming stronger in the world, people need gigs more. I noticed this particularly on the "Winter" tour, but even before. We were playing in Poland, they got this nationalist, right wing government, and in Britain we got fucking Brexit. And all these other forces of darkness. And the people that don't subscribe to this world view, that still subscribe to the idea of sharing the world, they need gigs more I think. So gigs are more charged today, they have more electricity.
Is the rest of the band always with you even when you play solo, cause they're in the songs you wrote collectively.
That's an interesting idea. Sometimes.
You all have different energies or temperaments.
That's true. I love New Model Army at the moment, this current version of the band. This is my favourite version of New Model Army. It's very cohesive, we're very good together. We argue as fuck about music, but in a good way. I think this slow change of members over the years has been very good for us. Every five or ten years a new person arrives and changes all the dynamics in the group. That's been very good for me. Each new version has a slightly new atmosphere.
Yesterday I thought there still is a very different kind of energy when you're solo on stage. I did have the impression that this anger which has been talked about a lot during the first decades of New Model Army seems to have been gone a bit and to have made room for a more gentle kind of compassion. Are you still angry though?
I'm still very angry about some things. But I think one bloke with a guitar shouting at you is kind of tedious. With a big noise it's easier to transmit anger. Anger is no longer the default position. Because when you're young the whole Punk Rock thing is partly a journaling and and anger is the easiest way to sort of shape your journaling. But you learn as you go along. I still thought "Winter" was quite an angry album. But the energy has got to be different in this solo setting.
You played some of your more explicitly political songs yesterday. But you didn't talk a lot about politics.
I don't think there's a need to talk an awful lot about songs. I wouldn't want to explain every song. Sometimes it's nice to talk a bit. Sometimes you just play the fucking song.
Still some of the stories you told yesterday were very personal. Is there a growing need to share views on life and music when you get older?
If I wanted to share my life I'd write a book which everybody says I should do. But I don't want to write it. Because I don't want to share everything. I'll tell a story or two, sure. In a way the songs are all stories anyway. But as for sharing my life and writing an autobiography… Maybe I will one day. The problem is that you need an ending. And there isn't an ending till you're dead.
You talked a lot about getting older yesterday. Do things actually fall into place when you get older?
The idea is that as you get older you find yourself. No. No. And I think that's one of the things about the "Winter" album and about New Model Army generally. You take the five guys: Have any of us found peace or resolve in our lives? No. None of us.
Do you even want to find it?
There's a song called "Peace Is Only" on the "Today Is A Good Day" album and the chorus is: "Peace is only for the dead and the dying." It's nice to find moments of peace. But I don't really believe in being completely at peace.
You sometimes talk about being a spiritual person…
God. It upsets people if I talk about God. I was born into a religious family. So the idea of God is just in me. And if you ask me which God: All of them.
What about spirituality on stage? Are stages charged by anything? Or are they just neutral spaces?
It's true for everybody: What you do is between you and whatever your version of God is, even if that's your own sense of pride. So when you're doing a gig it's not that you're trying to please the audience, you're trying to please yourself. You're just trying to make something you think is good. That's also a kind of deal with God isn't it?
You played a gig in Hannover in 2015 at this festival at the Maschsee…
It's funny people in Hannover always mention this. I came off stage that night and thought: "This is in my top ten gigs out of 3.000 or so. I loved that gig. The band was very relaxed, I loved what we were playing, our sound engineer even got onto a boat to mix the sound from the middle of the lake on an iPad. There was something about that night: beautiful weather, free festival, no pressure. And we had just played Wacken. We had been thinking a lot about Wacken, obviously we're not really a Metal band: "How is that going to be?" And it was great actually.
What I wondered about that night at the Maschsee: Did you know which place you played at? It's got a rather dark history. That lake has been built by forced labourers during the Nazi regime and your stage was placed right next to two huge bronze lions which have been made by Arno Breker, Hitler's favourite artist. I wondered whether you'd have commented on that if you would have known.
I didn't know and I probably wouldn't have said anything. I remember one of the first times I ever came to Germany. We played in Nuremberg and I went to the stadium where Leni Riefenstahl shot the famous movie about the Olympic Games. You could still see all these things built for a certain purpose, all this Nazi shit. And it seemed to me that Germany has done quite a good job in not demolishing but rather neutralizing everything. When I sat on the steps, more or less at the place where Hitler sits in the movie, there was a German teenage couple. The boy was walking up and down the steps, doing an imitation of Nazi shit to make his girlfriend laugh. And I thought that's probably the way to deal with the past: to mock it. Yes, these things were built. So use them. Charge them with a different energy. Europe is covered in battlefields, scenes of awful carnage and brutality. The fields of Flanders where all these people were killed in the First World War are all farmland again today.
After that evening at the lake I went through your songs looking for one that might have suited the topic. You are often viewed as an anti-Fascist band but the only song I could find which was outspoken anti Fascist was "Vengeance".
There's references here and there in little stories. But do we need to go: "All fascists are bastards, bambambam"? Not really. Other people can do that. I'd agree with the sentiment but it's not my way.
Just today I saw a meme on Facebook which quotes Henry Rollins, saying: "This is Punk Rock time. This is what Joe Strummer trained you for."
Punk Rock had a political edge, especially in Britain, partly because of the time. This was the beginning of Thatcherism. I remember it was impossible not to be political. But that wasn't the primary purpose. The primary purpose was the idea that the spirit with which you do stuff was more important than the finesse. Think of all these big bands of the seventies. Everyone had like a seven piece band and they were all fantastic musicians and it was all very complicated and rather pretentious. The idea of Punk Rock was: "Fuck that, we can just go "bang"". What people mistake now is that Punk Rock wasn't lots of distorted guitars and shouting. The Clash weren't even that. They were actually much more layered. But also Punk Rock was like people getting up in pubs and doing poetry. Or Patrik Fitzgerald playing spoons. Whatever. It was about the freedom of expression. And everybody who comes from that period still adheres to this idea: That it's about spirit and that the finesse and the mechanics of what you do are less important. I think all of us held on to that.
Bildquellen
28795217_10211379939354063_7162463427619717120_o: Thomas Kaestle